I don't know about you, but the holidays always make me hyper aware of my appearance. I've come a long way on my body positive journey. And while I know that I have no business calling myself "fat" (because I have thin privilege), this is the time of year where I find it easiest to slip back into old negative thought patterns of fat shaming myself.
Did I overdo it sampling the dough while baking Christmas cookies? Are the family members and friends I haven't seen in a few years going to notice that I'm not as thin I was as when they saw me last? Are people going to compliment me and tell me how "good" I look?
This is the nonsense that goes through my head.
While visiting with my parents in Ohio awhile back, my dad sent me home with a bunch of old stuff that I had left behind when I moved to Chicago over 10 years ago. I found myself particularly drawn to a huge photo collage I had made for my high school graduation–photos of me from my childhood all the way through senior year of high school. Looking back at those photos, I can remember exactly how I felt when I took them. Most of the time, I can remember thinking that I was fat. The interesting thing is, I never really was. I mean maybe when I was a kid I had some chubby phases, but even then I looked nothing like what I imagined in my own head. I was never really terribly skinny either–I've always just kind of been what I like to call a "medium sized human".
Then I think about all the time I wasted trying to force myself to be one of the "skinny girls".
Thousands of minutes on the elliptical at the gym after dancing all day. Hours of sleep lost and days spent groggy because of early morning, sleep deprived workouts. Minutes upon minutes per day tracking calories in a little notebook, or later on the My Fitness Pal app. All the time spent OD-ing on ice cream and other junk food because I'd already "blown it".  Then even more time trying to compensate for said "cheat day". So many phone conversations spent crying to friends about having a "fat day" or feeling like a crazy person. Time and money spent in therapy when I felt bad for burdening my friends. Hours perusing Facebook looking at old vacation pictures obsessing over whether or not I looked better in a bikini last year or the year before. Minutes of my morning trying to see if I'd weigh less if I stepped on the scale differently, or after I went to hot yoga. Or, after I broke up with my scale, time taking measurements and trying on all the pants in my closet to make sure they weren't tight. This is the raw and real truth.
SO. MANY. YEARS. WASTED.
Last summer, I stumbled upon an amazing bag at an NYC boutique with what I believe to be a Sarah Silverman quote on it.
"Mother Teresa didn't walk around complaining about her thighs–she had shit to do."
She sure did. So do I.
So do YOU!
I think about all the attention that has recently been brought to women and their presence (or lack thereof) in positions of power. I can't help but wonder how much more we could accomplish if we put our effort and energy into something other than obsessing over our physical appearance. This week, I'm celebrating my 34th birthday. In light of that, here are 34 ways that I would like to spend my time moving forward. Things that don't include agonizing over how big my arm looks when I stand on the end in a group photo.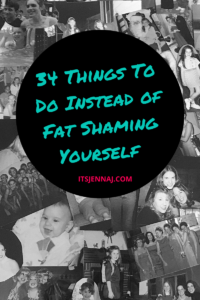 Read books. Inspirational ones. Ones about yoga. About dancers. About Feminism. Interesting autobiographies.

Color. Seriously, adult coloring books are super relaxing.

Actually watch a movie or TV show with my husband without being distracted.

Catch up with friends and family and ask them about THEIR lives.

Volunteer.

Sub a class for someone who needs help.

Clean and organize the house.

Check out other people's blogs.

Sleep.

Cook something new and interesting.

Take a cooking class.

Practice handstands.

Go to more yoga workshops.

Learn a random new skill.

Go to the library.

Blog more often.

Work on building my blog audience.

Figure out how to make more money in general.

Sell stuff I don't use on eBay.

Listen to a podcast that is not related to health and fitness.

Read the news and become more educated about world events.

Educate myself on ALL the political candidates For the next election.

Pet my dog.

Pay attention to the teacher in dance class instead of being distracted by my perceived flaws in the mirror.

Create art/choreography.

Plan my classes better.

Listen to jazz music.

Practice tap dancing.

Arrive super early to something, and sit and do nothing while I wait.

Meditate.

Take a long bubble bath.

Start my own business.

Learn another language.

Write a book.
Maybe you can relate to some of these. Maybe you have even bigger and bolder aspirations than I do. I have no interest in trying to run for political office or be declared a saint. I'm not necessarily aspiring to change the world. I'm just a dance teacher/yoga teacher/personal trainer trying to help a few more people to feel good in their bodies.
I wonder why so many of us focus on something we're not very good at (losing weight)?
In spite of the fact that I'm a certified personal trainer with a "weight loss specialization" (not particularly proud of the latter), I've never really been especially successful at doing it for myself. Most of us aren't. That's why there is a multi-billion dollar diet industry. There are so many more things that I AM decently good at (see list above). Who knows what I could have done with all the time I wasted unnecessarily fat shaming myself.
For real. This has got to stop. I've got $hit to do. We all do.
Let my list spark your imagination, and maybe create one of your own. I'd love to hear your ideas in the comments! Or click below to sign up for my email list. Get weekly inspiration and tips to let go of diet culture BS so you can get on with your life! (I promise no spam. Ever.)